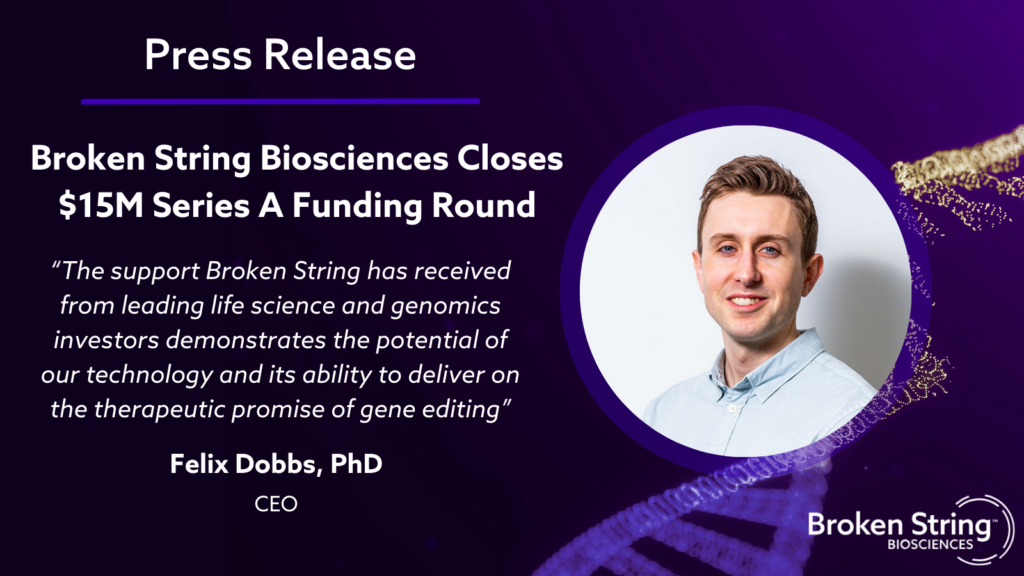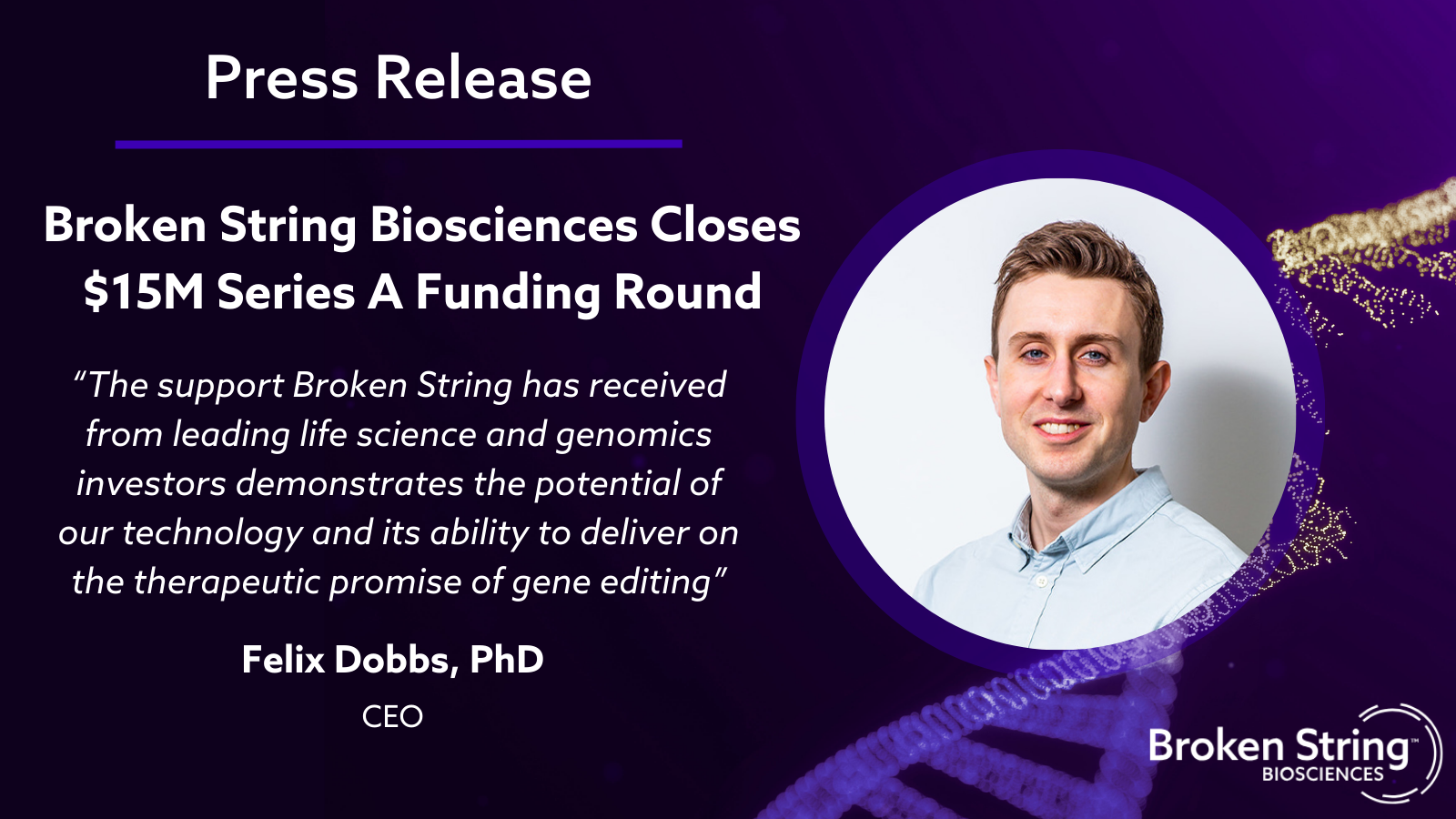 Funds to support further development and commercialization of the Company's INDUCE-seq DNA break mapping technology
Platform technology provides in situ off-target measurement in clinically relevant cells to accelerate the progression of cell and gene therapy programs
New investors include Illumina Ventures, Mérieux Equity Partners, and HERAN Partners
Cambridge, UK, 18 September 2023: Broken String Biosciences ("Broken String"), a genomics company building a technology platform to drive the development of cell and gene therapies that are safer by design, today announced that it has closed a $15 million Series A investment round, co-led by Illumina Ventures and Mérieux Equity Partners, with contributions from HERAN Partners, and existing investors Tencent and Dieter von Holtzbrinck Ventures (DvH Ventures). As part of the round, Yoann Bonnamour, Mérieux Equity Partners, and Arnaud Autret, Illumina Ventures, join the Company's Board of Directors.
The Series A funding will be used to develop Broken String's Next Generation Sequencing (NGS)-based DNA break mapping platform, INDUCE-seq™, into a scalable 'Platform as a Service' (PaaS) offering and to expand its capabilities beyond gene editing, broadening its go-to-market strategy and driving commercial traction. The investment also supports the Company's ongoing growth, including recruitment for its UK team based at the Wellcome Genome Campus, Cambridge, and the establishment of a US office.
The progress of cell and gene therapies based on genome editing technologies, such as CRISPR-Cas9, requires stringent pre-clinical assessments of off-target editing events. INDUCE-seq enables researchers to assess the specificity of genome editing tools and evaluate the associated off-target genetic outcomes. The platform technology addresses the limitations of existing gene editing off-target measurement approaches; leveraging a novel polymerase chain reaction (PCR)-free approach to directly measure and quantify DNA double-strand breaks using NGS (1). It provides data-driven, actionable insights across the discovery, pre-clinical and clinical development stages to unlock new therapeutic targets within the genome and to advance gene editing programs.
Felix Dobbs, PhD, Chief Executive Officer of Broken String Biosciences, commented: "Our vision is a future where cell and gene therapies are safer, more efficient, and affordable for patients. Operating at the intersection of biology, bioinformatics and data science, our INDUCE-seq platform offers an unbiased, end-to-end solution that expedites the measurement and assessment of off-target gene editing during therapeutic development. This provides essential information required to progress therapeutic programs that leverage gene editing and mitigate potential risks that can result in later-stage clinical failures. By developing a deployable PaaS offering, we have the opportunity to provide the cell and gene therapy community with this much-needed solution and achieve rapid market growth." He continued: "The support Broken String has received from leading life science and genomics investors demonstrates the potential of our technology and its ability to deliver on the therapeutic promise of gene editing."
Arnaud Autret, PhD, Principal at Illumina Ventures, said: "The clinical progression of cell and gene therapies is held back by off-target safety concerns – we recognize the power of Broken String Biosciences' technology to drive advances in safer genome editing, genome biology and genetic toxicology, and optimize drug development programs. The platform has the potential to become the gold-standard solution for measuring off-target gene editing."
Yoann Bonnamour, Investment Manager at Mérieux Equity Partners, commented: "The gene therapy market, and the essential off-target assessment technology alongside it, is a rapidly growing opportunity. Broken String Biosciences' team has the technical expertise and resources, paired with its strong connection with a world-leading genomics research institute, to drive this platform forward and transform the way gene editing programs are designed and developed."
Raf Roelands, Investment Director at HERAN Partners, added: "Broken String Biosciences'INDUCE-seq technology platform is a game-changing innovation for the characterization of off-target genome breaks. The team has made impressive progress since its seed funding round in 2021, successfully demonstrating that the platform addresses the market's needs and generates repeat revenues across a portfolio of partners. This new funding will enable the technology to be developed and delivered in a format that meets the needs of all customers, ideally positioning the Company for significant growth."
To find out more about Broken String Biosciences and opportunities to join the team, please visit our careers page.
Media contact:
Lily Jeffery
Zyme Communications
E: lily.jeffery@zymecommunications.com
T: +44 (0) 07891 477 378